Integrated Projects
An integrated project is a project that is merged with 2 or more classes. One integrated project we have done it Casa De Miedo. During this project we wrote scary stories in Humanities, Created a haunted house scene in Art, and then built it in Physics! Integrated projects can be very beneficial and are a great way to make connections with things you are learning in class. It also gives us more time in both classes to focus on and dive deeper into what we are leaning. A way I have benefit from Integrated Projects is by discovering that I can connect and explore my love for math and for art all in one project.
​Check out my Integrated Projects below.
Powered by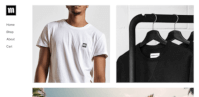 Create your own unique website with customizable templates.