Supportive Feedback
While writing our Scary Stories we went through lots of critique and refinement. Critique and refinement is very important because it allows us to make our writing better. By doing this I was able to expanding my ideas, modify my plot, adding sensory detail, and correct grammar and punctuation. At the beginning of this process I struggled with getting feedback that was beneficial or gave me ideas. A lot of times I would get weak critique like "good story". As you can tell that didn't give me ant substance that I could work with. So I asked around to peers that weren't from my class to look at my writing and help me make it better. One night in particular I sat down with my older sister and we went through my writing, line by line, and added sensory detail. She also helped me develop my character clearly.

A good way that I received really great feedback was when I had a 1 on 1 meetings with my humanities teacher Ms. Sara. Multiple times I sat down with Ms. Sara and talked about my story and what I liked about it and how I wanted to make it better. This really helped me because I got the opinions of a good writer on my story. In the future I want to continue having 1 on 1 meetings to help me improve my writing. Below are some examples of critique that I received and editing that I did. If you would like to read my final Scary Story click on the button below.
Powered by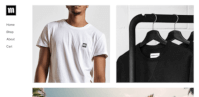 Create your own unique website with customizable templates.